Last Updated on January 6, 2023
There is nothing more fun as an owner than thinking of a name for your new pet!
Although fishes are naturally quiet, giving them a unique and fitting name can help you get to know their personality better.
With thousands of possible monikers, we sorted it out for you!
Are you ready to pick the best name for your betta fish? Scroll down to see our top recommendations!
What will you name your betta fish?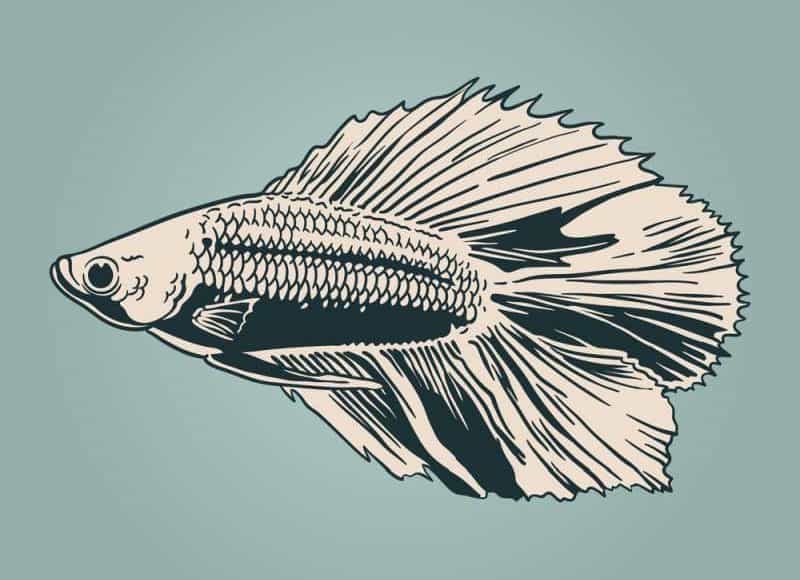 If you have a betta fish, one of the most important things you can do is give them a name. It will make your pet feel more like family and less like an object in their tank.
But how should you go about naming someone?
Without knowing their personality or interests, it's hard to know which type of names would suit them best! Well, worry not because here are some ideas for awesome betta fish names based on the following:
Giving your little friend an obvious name that is derived from their behavior (e.g., "Jitters" if they seem anxious),
catchy and easily remembered by others,
can be used for both male and female bettas
Male Betta Fish Names
The new betta fish in your life deserves to be called something cool and catchy.
There's no harm in giving your male betta a traditionally masculine name or opting for a more feminine, unisex nickname instead!
To help you get started on brainstorming some options, here is our list of the top best male betta fish names out there:
Betta fish names (male)
Blade
Finley
Mickey
Ninja
Oscar
Bluey
Nemo
Obi
Samson
Storm
Frankie
Oden
Sirus
Bolt
George
Pepper
Gilly
Opie
Simba
Slim
Cheeks
Hanzo
Poppy
Sol
Slick
Cosmo
Jasper
Quantum
Speedy
Tom
Darwin
Kingly
Triton
Rome
Spike
Bruno
Akira
Leon
Gary
Neo
Juan
Louis
Noah
Rex
Ranger
Cody
Ryder
Toby
Ace
Vinny
August
Prince
Marley
Jaxon
Lucky
Victor
June
My top pick for betta fish names (male)
1. Bandit – small, energetic bettas that often display a patch of color on their head
2. Flare – large and aggressive males that the iridescent sparkles can often identify in their fins
3. Beamer – a shy betta fish with an uncommon color pattern of a shy betta featuring red and blue colors in what resembles a beam of light
4. Chrome – oversized silver or black males with reflective scales that shimmer in the light
5. Leo – distinguished by gold and yellow colors radiating outward from the center of its body
6. Yukon – a betta fish featuring long fins and an extra-wide body; its unique snow-white coloration makes it appealing
7. Apollo – vibrant orange, red, and yellow males; perfect for betta fish that are highly active swimmers
8. Axel – bettas with bright blue markings resembling a star constellation; they move quickly
9. Comet – slender, jet-black betta fish with trailing fins suggesting streaks of stardust as they swim
10. Maverick – red males with impulsive behavior; rarely seen still for more than a few moments
Female Betta Fish Names
Female betta fish are less vibrant than male bettas, but they deserve an awesome name, too!
There are so many different ways to name a female betta fish.
You could choose an old-fashioned or flowery name if you want your little lady to be soft and feminine, but there's also the option of choosing something more modern or pop culture.
Since female bettas can live in groups called sororities, unlike male betta fish, you may want to think of a name that goes well or matches with the others. Here are some suggested names for your betta fish female:
Betta fish names (female)
Aubrey
Daisy
Suzie
Blaire
Princess
Elizabeth
Vicky
Shelly
Ariel
Bella
Clara
Eden
Freya
Harriet
Inara
Juno
Kiki
Layla
Mina
Macy
Nikki
Opal
Quinn
Rosie
Sofie
Sophia
Trinity
Ursula
Xena
Yara
Zoe
Gail
Cora
Dottie
Summer
Heidi
Isla
Jenna
Juliet
Lilah
Mabel
Kori
Nova
Piper
Roxy
Serena
Wren
Candy
Ursa
Leia
Emmy
Ramona
Pandora
My top pick for betta fish names (female)
1. Pearl: tiny, delicate female betta with a beautiful white and pink coloration
2. Nala: regal-looking betta that is often light yellow in color with darker accents
3. Fiona: short-bodied female betta fish with bright green fins and an orange body
4. Lizzy: loyal betta fish with a combination of blue, red, and yellow tones.
5. Brooke: elegant-looking betta fish with long fins and a light blue body.
6. Ivy: small but mighty females that are usually deep purple with electric blue spots
7. Jewel: delicate white spotted fish with pink accents in their fins and tails
8. Ginger: fiery females with bright orange and red bodies
9. Willow: soft-looking female betta with a pinkish-white body and light green fins
10. Harmony: peaceful females with a mix of blue, purple, and yellow colors in their scales
Names Based on Colors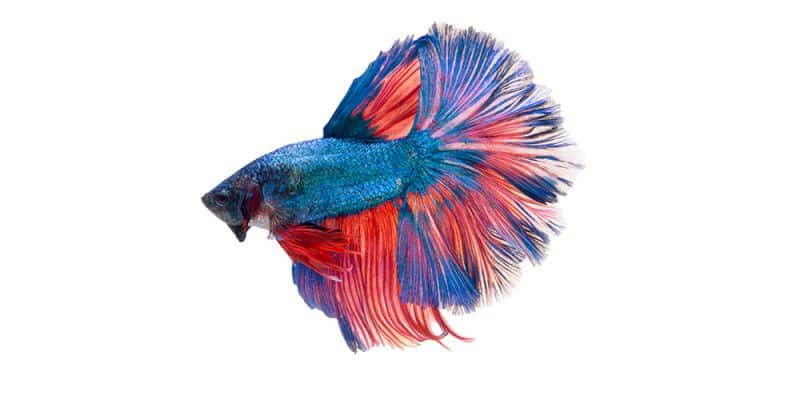 Betta fish (or Siamese fighting fish) are known for their vibrant colors, so why not give them a name based on their hue?
Some names for betta fish are apparent, while others are pretty creative and cool.
Check out the suggested betta fish names based on your pet's color.
White Betta Fish Name
If you have a betta white fighting fish, you may want to think of objects or themes with white inspiration.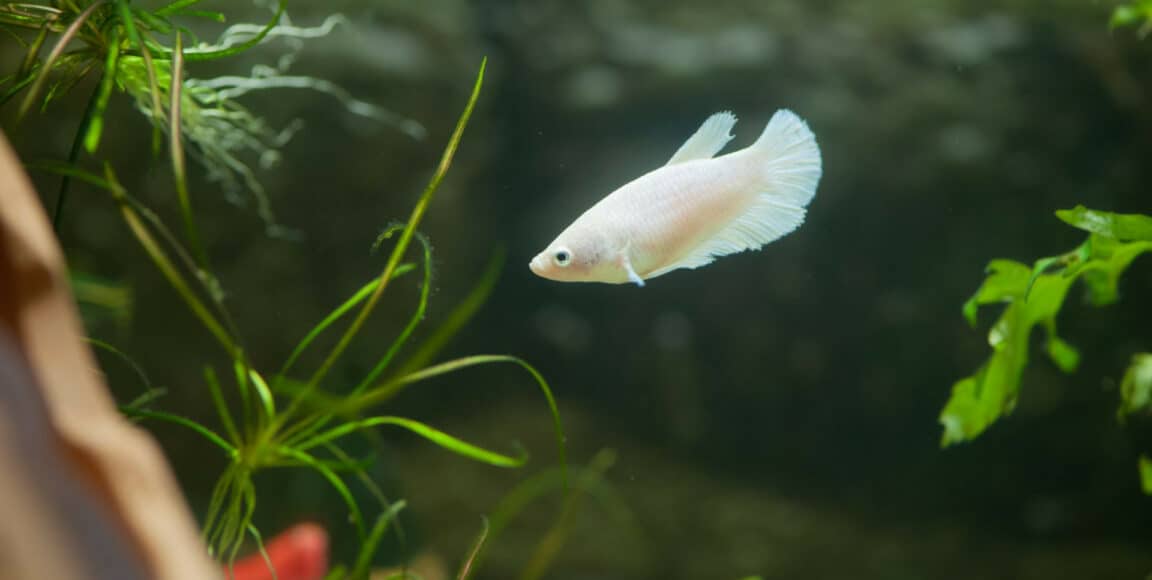 Ghost
Spirit
Whisp
Snowy
Olaf
Polar
Vanilla
Whitey
Angel
Cloudy
Moon
Blizzard
Crystal
Frosty
Ivory
Marshmallow
Snowflake
Stardust
Sugar
Winter
Arctic
Dove
Flake
Yellow or Orange Betta Fish Names
When naming an orange or yellow betta fish, there are many names to choose from! Whether you're looking for something silly or more serious, we have some great suggestions.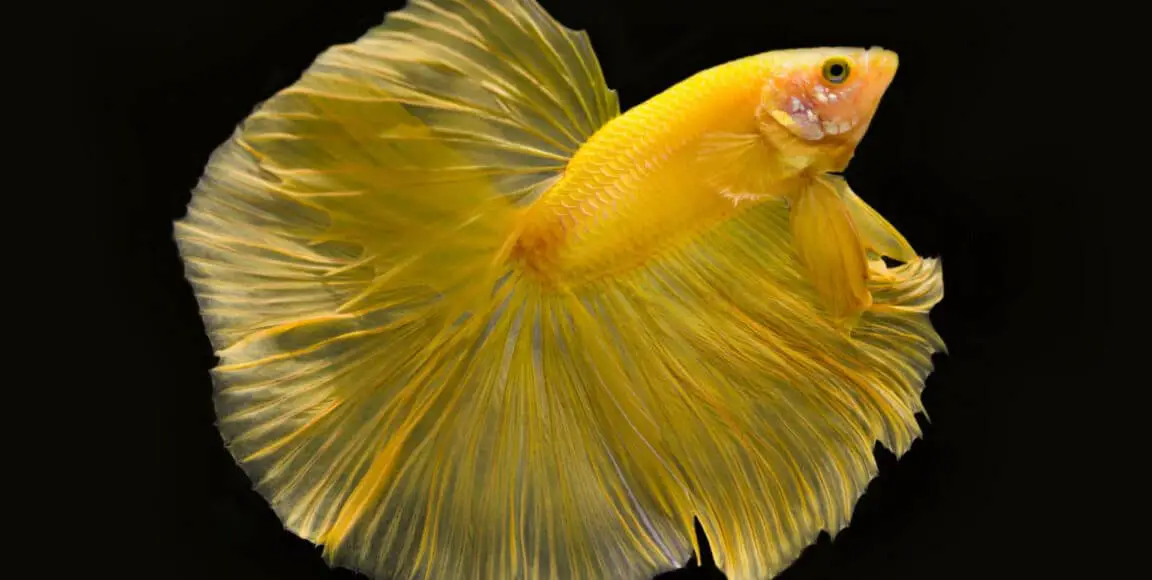 Yellow and orange are some of the most common colors found in nature – and it's also an incredible color choice for your new betta fish.
They can be both fun and friendly-sounding as well as elegant depending on what name you select!
There are dozens of different shades that go with this hue, too, meaning there's plenty to explore before settling on just one option.
Sunny
Sunshine
Star
Goldie
Custard
Honey
Pikachu
Tiger
Blondie
Buttercup
Saffron
Marigold
Peach
Sunset
Tigress
Canary
Pumpkin
Mango
Clove
Red Betta Fish Names
Does your betta fish have a fiery red shade? Here are some name ideas you could name your Siamese fighting fish.
Cherry
Blaze
Firedragon
Dragon
Drago
Splash
Gladiator
Rocky
Scorpion
Max
Bingo
Sparky
Mr. Fin
Scarlet
Ruby
Crimson
Chili
Fireball
Flame
Redd
Ember
Magma
Torch
Phoenix
Blue Betta Fish Names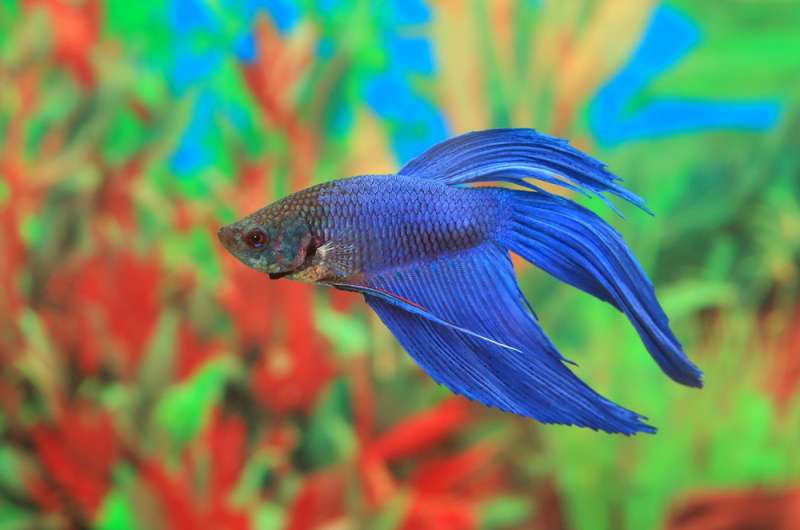 Blue betta fish are very calming to look at. They symbolize serenity and stability. Here are some great names for blue betta fish (male and female).
Ocean
Moby
Wave
Barracuda
Shark
Mo
Charlie
Chas
Sky
Sea
Jelly
Lilo
Blue Boy
Aquarius
Aqua
Atlantis
Azure
Denim
Cobalt
Azurean
Sapphire
Glacier
Sierra
Oceanus
Extra Names for blue Betta Fish (female)
Most names for blue betta fish above fit male betta fish, but if you have a female betta, you can also opt for names like:
Skye
Stormy
Bluebell
Glitter
Azurene
Misty
Breeze
Cyanea
Black Betta Fish Names
Mystery and dark themes are good inspirations if you have a black betta fish.
Black betta is the perfect way to show your love of dark, creepy, and crawly.
Some come from objects or food that are darker in color, such as coal or tar, while others take inspiration from life's less glamorous moments like death and decay.
Stealth
Lurker
Panther
Smokey
Midnight
Eclipse
Black Beauty
Black Bear
Onyx
Beetle
Jaguar
Mamba
Raven
Nocturne
Nightfall
Obsidian
Shadow
Charcoal
Ink
Viper
Licorice
Jet
Darkmoon
Cinder
Abyss
Ebony
Coal
Purple or Pink Betta Fish Names
Purple and pink betta fish are some of the rarest in the world. But if you're one of the lucky few to have one, there's no need to worry about coming up with a name!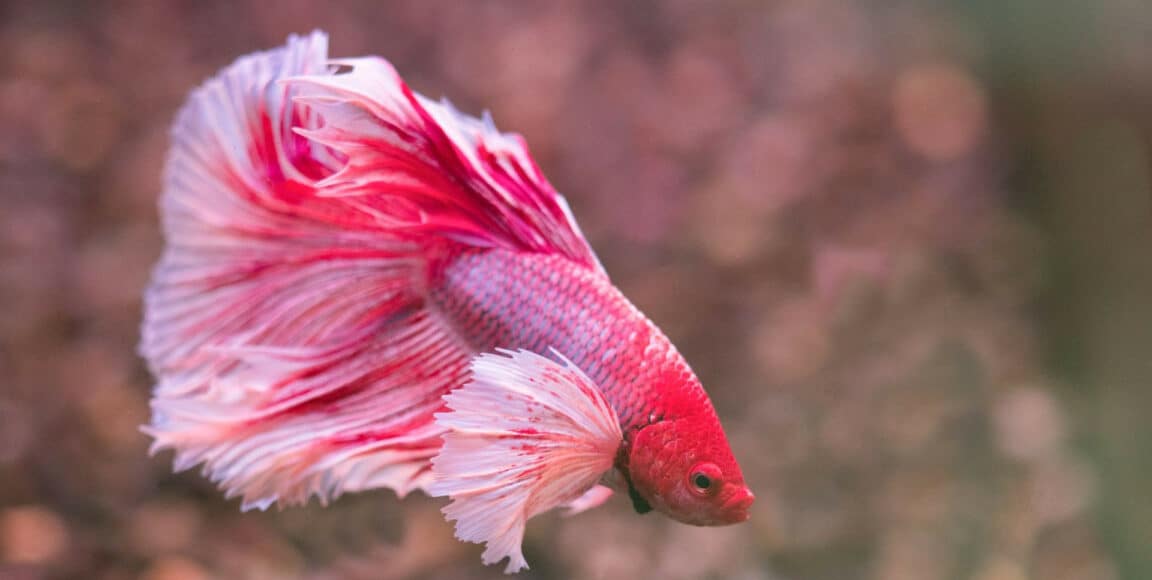 Here are some suggestions for purple and pink betta fish names that will fit your pet perfectly:
Lavender
Mauve
Orchid
Violet
Amethyst
Peony
Rosebud
Blush
Fuchsia
Bubblegum
Cotton Candy
Lilac
Cerise
Magenta
Periwinkle
Plum
Rose
Pinky
Flamingo
Raspberry
Mauvelous
Heather
Carnation
Mauvey
Perfume
Petal
Green Betta Fish Names
Green bettas are also quite rare, and usually, their color can be seen as light turquoise. but they make lovely pets! Here are some names that will fit your green-colored betta fish perfectly.
Seaweed
Sage
Fern
Clover
Lime
Emerald
Olive
Forest
Avocado
Shamrock
Lettuce
Hunter
Basil
Mint
Peridot
Celadon
Seafoam
Pistachio
Leafy
Artemisia
Verdant
Juniper
Evergreen
Jade
Chartreuse
Moss
Kermit
Copper Betta Fish Names
Copper betta fish has a beautiful, metallic body. Its scales shimmer in the light, and its fins are edged with gold. If you're looking for a unique name that reflects your copper betta's beauty, here are some ideas to get you started:
Copper
Bronzetail
Penny
Gilded
Amber
Brassy
Copperhead
Goldy
Truffle
Caramel
Honeycomb
Rusty
Raisin
Topaz
Copperfield
Cinnamon
Bronze
Mercurial
Sunbeam
Sparkle
Flicker
Fiery
Other Names for Male and Female Fish
If you're still having a hard time choosing from the previous lists, here are more random fish names betta for your pet:
Aquamarine
Coral
Cornflower
Salmon
Turquoise
Firebrick
Indigo
Chiffon
Golden Rod
Papaya
Tomato
Teal
Sienna
Half Moon
Funny Betta Fish Names
Being silly in choosing a name for your first betta is both memorable and fun! Humor and puns are essential in life and make the naming process lighter.
Not only will it put a smile on someone hearing your fish's witty name for the first time, but will also make you chuckle after a long and tiring day.
Here are some funny betta fish names you can choose from:
Captain Hook
Gill Bert
Betta Max
Harley Finn
Swim Shady
Tuna Turner
Aqua Fin-a
Sharkira
Lake Skywalker
Ellie Goldy
John Sea-na
Fin-neas and Ferb
Bubbles
Neptuna
Meowsic
Sir Swims-a-Lot
Bubblemancer
Splash Gordon
Betta Midler
Finatic
Shark Bait
Lord of the Fins (Lof)
Tailor Swift
Marlin Monroe
Big Kahuna
Fishy Potter
Finny
Jawsome
Cool Name for Betta Fish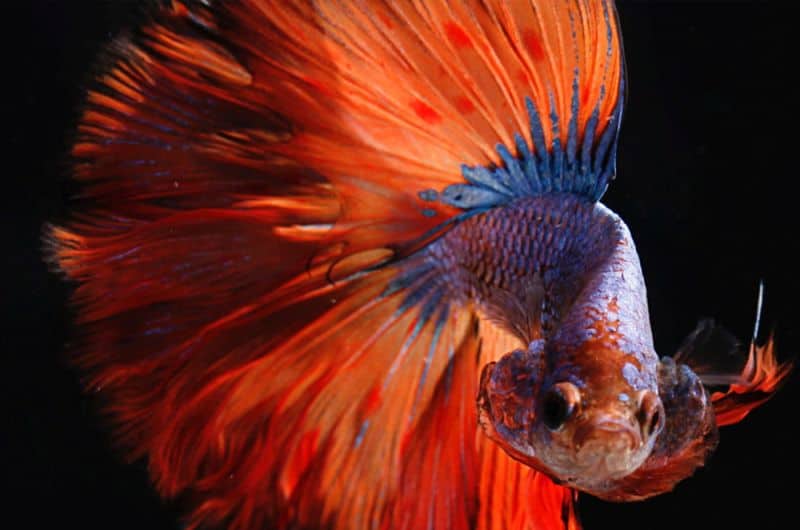 We know how proud you are of your new pet, so go ahead and take some time to find the perfect first name.
For example, if you have a Crowntail (which is rare), why not give him or her an excellent royal nickname like King Henry or Queen Victoria?
Your betta fish is as cool and unique as you, so you might as well give them a creative name to match.
From Greek and Roman mythologies to languages and scientific terms, here are some cool betta fish names you shouldn't miss:
Names from the Greek & Roman Myths
Are you a fan of Greek and Roman myths? If yes, then why not choose a name for your female and male betta from these gods?
Aries (god of war)
Mars (god of war)
Poseidon (god of the sea)
Helios (the sun)
Notus (the south wind)
Charon (the boat keeper on the river Styx)
Gorgon (a monster that battled Perseus)
Zeus (king of the gods)
Phoebus (god of the sun, music, and healing)
Hermes (messenger of gods)
Athena (goddess of wisdom and art)
Aphrodite (goddess of beauty and love)
Demeter (goddess of harvest)
Hera (goddess of marriage)
Artemis (goddess of the moon, hunting, and wildlife)
Dionysus (god of wine, vegetation, and fertility)
Hades (king of the underworld)
Hydra (multi-headed sea monster)
Nemesis (goddess of revenge)
Aeolus (keeper of the winds)
Nyx (goddess of night)
Hephaestus (god of fire)
Hecate (goddess of magic and witchcraft)
Names from Different Languages
It is always lovely to hear a word from other languages. When you hear someone in a different language, it's always cool to listen and try to pick up on some words.
It can be difficult, but knowing the meaning behind those words will surely give your betta a cool and unique name.
Japanese Names/Words
Suki (Japanese for "Beloved")
Akio (Japanese for "bright boy")
Jiro (Japanese for "The Second Male")
Kaida (Japanese for "Little Dragon")
Nami (Japanese for "Wave")
Ryu (Japanese for "Dragon")
Oki (Japanese for "Ocean Centered")
Toki (Japanese for "Time Of Opportunity")
Yasuo (Japanese for "Peaceful One")
Yuki (Japanese for "Snow or Lucky")
Yoshe (Japanese for "Beauty")
Aoi (Japanese for "Blue/blueish")
Ami (Japanese name meaning "Friend")
Asami (Japanese name meaning "Morning Beauty")
Chinese Names/Words
Bo (Chinese for "wave")
Chang (Chinese for "flourishing, prosperous")
Hai (Chinese for "sea")
Jing (Chinese for "essence" or "perfect")
Shui (Chinese for "water")
Xiu (Chinese for "beautiful" or "elegant")
Shu (Chinese for "kind" or "gentle")
Nuo (Chinese for "graceful")
Spanish Names
Charco (puddle)
Lago (lake)
Ola (wave)
Pez (fish)
Nadador (swimmer)
Resbaladiza (slippery
Rojo (red)
Azul (blue)
Buena Vida (good life)
Felicidad (happiness)
Saludable (healthy)
Thai Names
Kanchana (gold)
Rachan (king)
Ha yak (rare)
Aran (forest)
Ambhom (sky)
Arthit (sun)
Darha (flower)
Fan (dream)
Nin (sapphire)
Rung (rainbow)
Scientific Names
If you are into science, there are several cool scientific terms you can give your pet.
Quark
Boson
Electron
Neutron
Ohm
Apogee
Perigee
Prism
Erythrocyte (a red blood cell)
Isotope
Ion
Quartz
Cartoon-Character Names for Betta Fish
Cartoon-character names are always fun and creative, which can make it an excellent pick for your betta fish. After all, they typically have unique personalities that may fit your pet!
Here are some of our favorite cartoon character names to get you started:
Woody
Finn
Scooby
Lightning McQueen
Buzz
Dory
Simba
Pumbaa
Tigger
Timon
Alice
Batman
Robin
Bugs Bunny
Mickey
Minnie
Scar
Goofy
Donald Duck
Yoda
Gumball
Anais
Dexter
Bubbles
Personality-Based Betta Fish Names
If you want to name your betta according to its personality, check out this list of possible names:
Active: Turbo, Flash
Lazy: Snoozy, Sloth, Sleepy
Curious: Snoopy, Sherlock, Einstein
Playful: Jumper, Twister, Whiz
Brave/Fearless: Hero, Braveheart
Social Butterfly: Cheerio, Mingler, Chatterbox
Fiesty: Trouble, Scrappy, Zippy
My top pick for cool betta fish names 
1. Tempest – A bold and energetic betta with a flair for the dramatic.
2. Poseidon – An adventurous and strong-willed betta who loves exploring its environment.
3. Nebula – An ethereal and mysterious betta that radiates an air of mystery and intrigue.
4. Zen – A content and peaceful betta that loves to take it easy and enjoy the moment.
5. Gizmo – An adorable and curious betta who loves exploring and discovering new things.
6. Cosmos – A curious betta with a keen interest in understanding the universe around them.
7. Naiad – A graceful and elegant betta.
10. Zephyr – A gentle yet playful betta that loves to play in the filter current and explore its environment.
9. Jax – A mischievous and playful betta who loves to keep its owners entertained.
10. Luna – A mesmerizing betta with a magnetic personality that always captures attention.
Conclusion
Naming your betta fish can be daunting, but we hope this guide has given you the inspiration and knowledge to choose the perfect one for your little friend.
Whether you go with a classic Greek or Roman god name, a scientific term, or something that reflects their personality, your choice will ensure your little buddy is unique and special.
So let's get creative, have some fun, and choose the perfect name for your betta fish! Happy naming!